Bad weather forecast blamed as Guilfest goes bust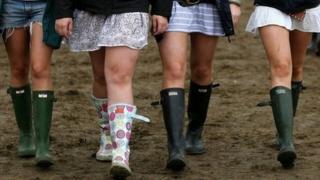 A bad weather forecast has been blamed for the firm behind Guilfest Music Festival in Surrey going bust with some of the acts and workers not being paid.
The event at Stoke Park, Guildford, from 18 to 20 July, was organised by Trowfest Ltd run by Tony Scott.
Bad weather was forecast, which led to low ticket sales and the company has now gone into liquidation.
In 2012, another firm owned by Mr Scott was liquidated after the festival ran up debts of £300,000.
It meant Guildford Borough Council lost £61,000.
'Big loss'
This year the authority approved the event as long as Mr Scott met some conditions.
He had to pay up front to hire the park and a bond for repairs.
Mr Scott said the event had again made a loss and blamed a forecast of thunder, lightning and hailstorms.
He said: "I am not sure of the figures, it has gone to the insolvency practitioner, we just know it has made a big loss.
'Very disappointing'
"It can only takes a couple of thousand tickets and it can make or break an event.
"Some of the artists have not been paid, some of the people setting up the festival have not been paid and some of the people working on the festival have not been paid either."
Matt Furniss, from the council, said: "It is very disappointing and we are very sorry to see what has happened.
"The council and the taxpayer have been protected through this process."
The festival attracted 45,000 people with 13 stages of music, entertainment, theatre and comedy.