Surrey 'revenge porn' victim speaks of six-month ordeal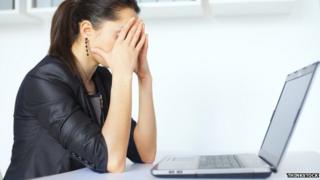 A woman whose ex-boyfriend posted explicit images of her online has spoken of her six-month campaign to have the pictures taken down.
Emma, whose name has been changed to protect her identity, said she blamed herself after discovering the "revenge porn" on the man's blog.
The 21-year-old, from Surrey, said she tried to reason with her ex, but he began posting new images.
In July, the House of Lords rejected calls for a new "revenge porn" offence.
Peers said it was covered by existing obscenity and harassment laws.
But the National Stalking Helpline, Women's Aid and the UK Safer Internet Centre all said the problem had become more common.
'Utter disbelief'
"Revenge porn" is when people post explicit images of ex-partners online, to humiliate them following a break-up.
Emma said: "I thought our split was amicable, but I started having fears he was up to something."
She checked his blog and was left in "utter disbelief" when she saw an image of herself.
She contacted the website's owner and the pictures were eventually taken down.
Emma said she contacted her ex who apologised and said "he did it when he was angry".
"I did not want to carry on the conversation with him but I felt I had to remain civil in case he changed his mind," she said.
"I would go a couple of weeks without speaking to him and more pictures would appear, some of them even more explicit."
Surrey Police said it was "virtually powerless" to act as "revenge porn" was not covered in criminal legislation.
Emma went on to post a message on Facebook explaining what her ex was doing.
"He messaged me and said I was being really unfair to him," she said.
To those considering posting explicit images without consent, Emma said: "Don't do it.
"Don't participate in the violation of other people, and don't perpetuate the embarrassment."