£27m flood money 'would protect 7,500 homes in Surrey'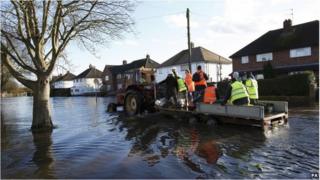 A total of 7,500 homes in Surrey could be protected from future floods if a £27m bid to the government is successful, the county council said.
The authority has asked for the money for schemes including diverting streams and building flood relief channels.
Some of the areas that would benefit would be Camberley, Cranleigh, Weybourne and Ewell Town.
The Environment Agency said allocation of funds would be agreed in November and announced in the Autumn Statement.
'Big ask'
Thousands of homes were flooded in Surrey during storms last winter.
John Furey, Surrey County Council's cabinet member for flooding recovery, said obtaining the money was important.
He said: "The government has got to understand they are playing with the economy of the country and not just Surrey."
Mr Furey said Surrey had every hope of being awarded the money with him at the helm, but admitted it was a "big ask."
The cash being asked for would not cover the River Thames scheme, as that is being dealt with on a separate basis.
In a statement, the Department of Food, Farming and Rural Affairs (Defra) said: "We are determined to reduce the risk of flooding and are looking at all potential options to better protect people's homes and businesses.
"That is why we will be spending more than £3.2bn over the course of this parliament on flood management and protection from coastal erosion."
Forty households have still not returned to their homes in Egham after last winter's flooding.