Frimley Green campaign hopes to change cancer drug decision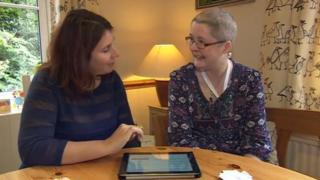 Family and friends of a Surrey woman who has a rare cancer are campaigning to reverse a decision to refuse her specialist treatment.
Maths teacher Alice Dann, 47, from Frimley Green has written to her MP and a petition has been started asking NHS England to allow her Ipilimumab.
She has been told the treatment was refused because there was not enough evidence it would work.
NHS England said difficult funding decisions had to be made about drugs.
'Floored by diagnosis'
Mother-of-two Ms Dann, who has gestational trophoblastic disease, a rare pregnancy-related cancer, said being told just over a week ago she could not have Ipilimumab was like being diagnosed all over again.
"When you first get diagnosed with cancer it floors you but you do rally," she said.
"Then, when we got told that the treatment had been refused, it was the first time in 18 months that it felt like that again."
Ms Dann's medical team at Charing Cross Hospital in London wanted to try Ipilimumab, which works by enhancing the body's own immune system, on her type of cancer.
It is already used to treat advanced melanoma.
Her niece, Jo Fuzzard, from Portsmouth, Hampshire started an online petition asking Health Secretary Jeremy Hunt and Surrey Heath MP Michael Gove for help.
It has so far received 6,441 signatures.
Ms Dann said she had been "completely blown away" by supportive comments from those who have signed.
"I've been crying non-stop every time we turn it on," she said.
NHS England said: "We do understand the difficulties patients living with life-changing diseases and their families go through when making decisions about their treatment.
"We have to make very difficult decisions about which cancer drugs to fund and this means carefully scrutinising all available evidence on their effectiveness.
"We follow NICE Technology Appraisal Guidance and clinical trial evidence in making these decisions."