New memorial for Woldingham village's war dead unveiled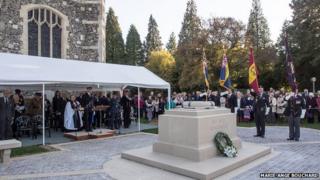 A village in Surrey has its first permanent memorial to its war dead, 100 years after the start of World War One.
The stone memorial in front of St Paul's Church in Woldingham was unveiled in a ceremony on Saturday.
The first inscribed date is that of a sailor killed in one of the earliest submarine disasters in 1912, while the most recent date is 1976.
Previously the village's only memorial had been a wooden plaque originally hung in the old church of St Paul.
It was made by a father who lost two sons in World War One after plans to create a stone memorial failed to materialise.
The new memorial has been designed by architect Liam O'Connor, responsible for the Bomber Command Memorial in Green Park in London, and the Armed Forces Memorial at the National Memorial Arboretum in Staffordshire.
Sally Marks, vice-chairman of Surrey County Council who was on the memorial committee, said it had taken more than three years to raise the funds for the £80,000 memorial.