Surrey flood victims get more time for repair grants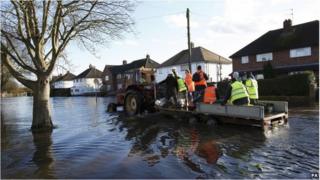 Flood-hit residents in Surrey have been given more time to apply for government grants to help them repair their homes.
The county council has extended the repair and renew grant deadline to 31 December.
Under the scheme, each home can apply for £5,000 to pay for flood resilience measures in case of future floods.
The council said the deadline had been extended because some people were still returning to their homes and others were struggling to find contractors.
Surrey County Council is administering the scheme across the county apart from in Woking where the borough council has a separate scheme.
Runnymede Council has been encouraging homeowners to make use of the grant.
Chief executive Paul Turrell said: "We are urging residents who have not yet applied, to apply for the grant before the deadline."
It said it was also installing flood defences in its own properties.
In September, it emerged about 40 families from Egham were still waiting to return to their council-owned homes.
Runnymede Council's head of housing and community development Jane Margetts said the authority was continuing to return families to their homes on a weekly basis and now only 10 families were still waiting for a return date.