Brookwood Cemetery bought by council to 'reverse decline'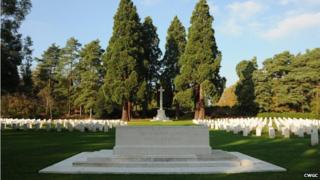 A cemetery said to be the largest in the country has been bought by a council following complaints it had fallen into disrepair.
Brookwood Cemetery, in Brookwood, Surrey, was founded in 1852 to provide resting places for bodies from London.
Woking Borough Council said it had declined in quality since World War One due to a lack of investment.
Council leader John Kingsbury said: "We decided we owed it to future generations to intervene now."
The war graves at the cemetery are independently managed by the Commonwealth War Graves Commission and the American Battle Monuments Commission.
These are not included in the area now owned by the council.
The council bought the shares from Diane Holliday, who was the previous owner operator of Brookwood.