Surrey's Polesden Lacey estate becomes outdoor board game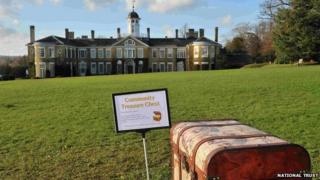 Christmas traditions of playing board games and going for walks have been combined at a visitor attraction.
An outdoor version of Monopoly opens in the gardens of Polesden Lacey in Surrey on Boxing Day.
Those taking part in Polesdenopoly will explore the estate and carry out challenges to earn Polesden pounds.
Owners The National Trust, said players should elect the bossiest person as banker and cheating would be widely encouraged.
'Excuse to be silly'
Players will gather Polesden beauty spots instead of London Monopoly properties, the charity said.
The object of the game is to become a millionaire and the person with the most beauty spots at the end wins a prize.
Events officer Lauren Milsom, said: "Christmas is that time when family and friends come together and play corny old board games after the Christmas pudding has been served.
"We wanted to offer something to prolong that festive cheer.
"Polesdenopoly is good old frivolous fun, it's a good excuse to be silly together."
The house in Great Bookham, near Dorking, is the former home of Edwardian hostess, Mrs Greville, who used to entertain royalty and politicians.
It was also where the future King George VI and Queen Elizabeth the Queen Mother spent their honeymoon.