Antique paddle-steamer plaque stolen in Sunbury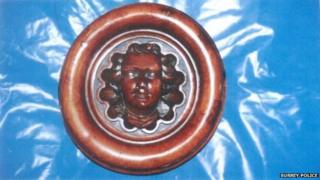 An antique wall plaque from a wooden paddle-steamer which sank in the River Thames in 1878 has been stolen from a property in Surrey.
The circular wooden artefact went missing between 4 and 17 December from Batavia Road, in Sunbury-on-Thames.
It has a carved face of Princess Alice in the centre, with a slight chip on her nose.
The theft has only just been revealed by police, who said the plaque was worth about £800 when valued in 2004.
It was recovered from the paddle-steamer, The Princess Alice.
PC Kelly Camm said: "The owner is extremely upset by the loss of this irreplaceable plaque that has huge sentimental value and has been a family heirloom since the late 1800s."