Surrey WW1 project awarded almost £500,000 by Heritage Lottery Fund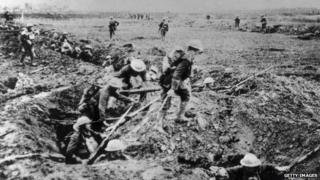 A project to mark the experiences of people from Surrey during World War One has been awarded £460,000 by the Heritage Lottery Fund (HLF).
Surrey Heritage, part of the county council, has received the money to show what life was like for people on the front line and at home.
Memories will be preserved through photographs, newspaper clippings, documents and letters on a new website.
It is hoped residents will volunteer to do research on the impact of the war.
Helyn Clack, from the council, said: "Thousands of men from Surrey alone died in World War One and many people's lives back home were changed by it forever.
"This project will enable communities to explore the local wartime stories behind artefacts and memories to build a lasting digital and physical legacy for generations to come."
Stuart McLeod, who is the head of HLF in the South East, said: "The impact of the war touched every corner of the UK and the centenary commemorations are giving people new insights into the impact of the conflict, both in the battle zones and on the home front."