Family tribute to Richard Stroud after Guildford club attack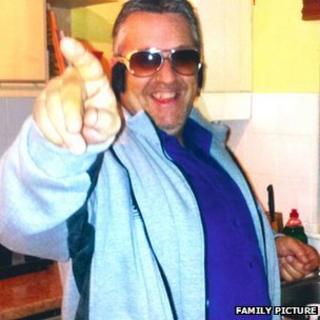 The family of a man who died from a head injury after an assault outside Guildford City Social Club have paid tribute to "a gentle giant".
Richard Stroud, 46, from Guildford, died in hospital on 4 January, the day after the assault in Joseph's Road.
"Richard gave so much love and laughter, he would help anybody, and when it came to doing things he was a perfectionist," his family said.
Matthew Boyd, 32, from Plumstead, south London has been charged with murder.
Mr Stroud's family said the West Ham football fan had a wicked sense of humour and loved a joke and his music.
"How proud we all are of our Richard as a son, father, brother, uncle and husband," they said.
"He was a good guy."
Mr Boyd also faces two counts of assault.
He was remanded in custody until 1 April by Guildford Crown Court on Tuesday.