Slyfield housing zone proposal for sewage works site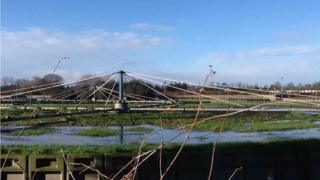 More than 1,000 homes could be built on the site of a sewage treatment works in Surrey as part of the government's vision for flagship housing zones.
The 99-acre site in the Slyfield area of Guildford is one of 29 projects in England shortlisted by the government. Only 10 will eventually be selected.
The aim is "to deliver new homes quickly on brownfield land".
If the scheme is approved, the existing Thames Water sewage plant would be decommissioned and relocated nearby.
The new development would also include a school and 20,000 sq ft of retail space.
In a statement, Thames Water said: "We're continuing to work with Guildford Borough Council to fully understand whether it will be possible to relocate our sewage works."
'Cautiously positive'
Zoe Franklin, who represents Slyfield on the council, said discussions about new housing had been ongoing for about 10 years.
"Generally the view of local residents is cautiously positive as the plans could just bring so many positive benefits for the area," the councillor said.
"The residents, and I too, want to make sure that the final plan looks like something that we as a community think would work alongside ours.
"It would be terrible to have a community that wasn't able to sit with the pre-existing community that's already there."
The Department for Communities and Local Government said the 29 shortlisted bids would go through an assessment process which would include looking at value for money and commitment to delivering high quality homes quickly.
Bids were submitted by councils working with developers, and were invited to bid for a share of £200m for infrastructure and land remediation.
The government said successful zones would also have access to cheaper borrowing from the Public Works Loan Board and priority access to expert planning and technical support.