University of Surrey goes back to its Battersea roots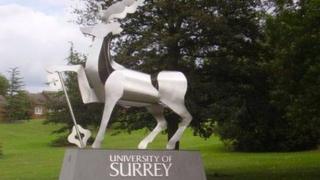 The stories of students who studied at a London college which later became the University of Surrey are to be documented for future generations.
The university, now at Stag Hill in Guildford, was established in 1966 by a charter granted to Battersea College of Advanced Technology.
It wants to ensure there is a record of the lives of the college students.
A £10,000 Heritage Lottery Fund grant has been awarded to pay for the Remembering Battersea project.
'Lasting record'
The University of Surrey's roots go back to 1891 and Battersea Polytechnic Institute, located next to Battersea Park, which later became Battersea College.
"In that time thousands upon thousands of students have passed through its doors," said Chris Gethin, director of alumni relations.
"To celebrate this legacy, and the foundations on which Surrey is built, this heritage project will create a comprehensive and lasting record of life as a student at Battersea.
"We want to ensure the stories and memories live on to inspire future generations, and connect current students to the history of their university."
Former students at Battersea are being asked to donate artefacts from the college days and record their memories as part of an oral history project.