Kingswood robbery detectives follow up leads after appeal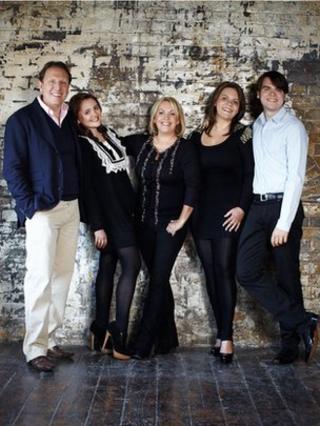 Detectives investigating a violent armed robbery in which a woman and her daughters were attacked have said they are following several leads.
Catherine Stiff and daughters Chloe and Katie were forced to remove their jewellery in the robbery at their home in Kingswood, Surrey, on 12 November.
Following an appeal on BBC Crimewatch, Det Sgt Steve Muncaster said there had been "a very positive response".
He said several callers had recognised a man seen on CCTV at a local station.
The footage from Kingswood railway station shows a man in a blue top arriving at about 15:27 GMT on the day of the attack, and then returning at about 18:47.
Double barrelled shotgun
Further CCTV from nearby Kingswood Golf Course car park at about 16:32 showed a man on foot, closely followed by a black Ford Ka being driven around without parking.
The man walked towards the back of the golf course, which backs on to the property owned by the Stiff family.
Mr Muncaster said as yet there had been no information on that person or vehicle.
He said it was believed the offender knew the Kingswood area and had accessed the property via the golf course.
During the robbery, which happened at about 17:45, the offender threatened the family with a double barrelled shotgun.
All three women, including Katie Stiff who was six months pregnant, were made to lie on the floor and kicked in the side.
Watches and diamond rings were among the items stolen.
Mrs Stiff's husband, the entrepreneur Robert Stiff, was at work.
He told BBC Crimewatch the assault on his pregnant daughter had been the most upsetting part of the robbery.
The suspect was described as white, about 6ft (1.8m) tall and of broad, athletic build.
His voice was very gruff, with a south London accent.
There is a £60,000 reward for information leading to the arrest and conviction of the offender.