Sheerwater demolition charter 'shocks' residents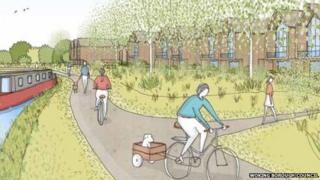 Residents of an estate where 600 homes are being targeted for demolition have been shocked by details of a new "community charter" for the area.
Woking Borough Council delivered the booklets to homeowners and tenants of Sheerwater estate in Surrey last week.
"It was a bit shocking," said Safina Ahmed. "This community charter is quite complicated."
The council said the charter was a consultation document and the redevelopment was "not a done deal".
It wants to build about 900 new homes on the site.
'Refuse to accept it'
Mrs Ahmed's home is one of four in the same street owned by members of her close family that is under threat.
"These are solid houses in good condition," she said. "I can understand it is good for the community, but it is not good for us."
The charter says residents will get at least 12 months' notice before they have to leave their homes and discussions will not start until summer 2015, on condition of planning permission being given.
But, resident Tahir Aziz said the council was rushing the process.
"We will fight it with all our possible resources," he said. "We absolutely refuse to accept it."
Councillor David Bittleston said the council would do its best to ensure everyone who wanted to return to Sheerwater would be able to do so.
"We have no intention to make any money out of it at all," he said.
"Our aim is to generate enough money to pump in £13.5m worth of additional community assets which are badly needed in Sheerwater.
"If it receives planning permission it comes back to council probably towards the end of this year when a decision will be made to ask the developer to go ahead or not go ahead so it is not a done deal."