Grieving woman calls for domestic violence inquiry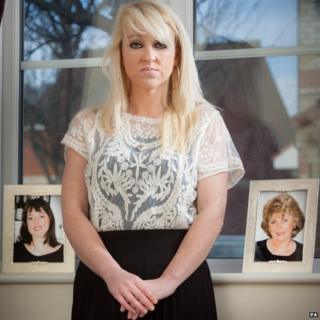 A woman whose mother and sister were murdered has called for a public inquiry into the state's response to domestic violence.
Christine Lee, 66, and Lucy Lee, 40, were shot by John Lowe, 82, at his puppy farm in Surrey last February.
Stacy Banner, 39, from Aldershot, said she warned police several times Lowe was dangerous.
She has backed charity Refuge and its call for an inquiry into the response to domestic violence.
She said an inquiry was "essential".
Lowe, who was jailed for a minimum of 25 years, lived with his partner Christine and her daughter Lucy at Keepers Cottage Stud, near Farnham.
"I knew John Lowe was dangerous and that he would kill. I told the police - more than once," said Ms Banner.
"Surrey police took away John Lowe's guns. But they gave them back to him. And then he killed my family.
"I want answers from the police. The Independent Police Complaints Commission (IPCC) is investigating Surrey Police and I await the publication of their findings. I cannot comment further on this while their investigation is ongoing."
Surrey Police apologised to the family for returning Lowe's guns after they were confiscated in March 2013 following an allegation that threats to kill had been made.
Three Surrey Police employees are being investigated for gross misconduct by the IPCC over the decision to return the weapons.
During Lowe's trial in October, jurors were played a frantic 999 call from Lucy who told the operator: "I don't know if I'm going to be alive if I go back in there. He shot my mum."
Police said they were met with a "scene of carnage" when they arrived at the farm.
Ms Banner said: "I had heard the statistic that two women are killed every week by a partner or ex-partner.
"But I never thought that one week those two women would be my two women - my mum and my sister.
"Domestic violence has to stop. It is unacceptable that so many women and children still live in fear for their lives and are so let down by the agencies designed to protect them.
"There needs to be a public inquiry into what is going wrong. In memory of my mum, Christine, and my sister, Lucy."
Refuge has said it will publish a list naming 268 women killed in domestic violence from the start of 2010 to the end of 2013.
The charity has also begun a petition calling for a public inquiry.