Guildford Cathedral secures £4.6m lottery boost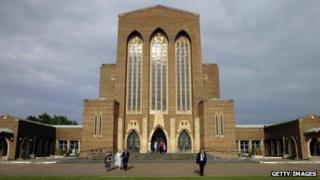 A 1960s-built modern cathedral that was "at serious risk of closure" has been given a £4.6m lottery grant.
Grade II listed Guildford Cathedral had to raise £1.3m to secure the award from the Heritage Lottery Fund (HLF).
Officials said the building, constructed in 1961, was at risk of closing because of deteriorating plaster, containing asbestos.
Preparatory work will start next month ahead of building work, which will get under way in October
The Dean, the Very Reverend Dianna Gwilliams, said: "This award is a recognition of the value of modern 20th Century heritage and that Guildford Cathedral is an important piece of our modern heritage."
Buy a brick
Stuart McLeod, head of HLF South East, said the building was a rare example of a modern cathedral and the investment was a direct response to the urgent need to save it.
Work will also include installing a new light and sound system, and improving disabled and family access.
Fundraising included a "buy a brick" campaign and more than 200,000 people took part in it.
An oral history project will also take place to capture more than 200 memories of the brick-givers and those involved in the construction of the cathedral.
A wider £7m cathedral appeal is still under way to pay for further repairs and improvements.