Victoria Cross restoration project at Brookwood Cemetery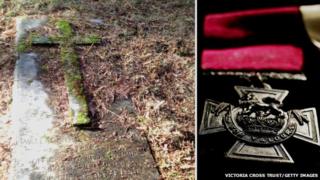 The graves of 12 recipients of the Victoria Cross who are buried in a cemetery in Surrey are to be restored.
The restoration project at Brookwood Cemetery, near Woking, will be undertaken by a team from the Victoria Cross Trust at the end of March.
The VC grave markers and memorials are in various states of repair, some requiring minimal cleaning with others in need of major restoration.
Three other recipients are commemorated on memorials in the cemetery.
Highest honour
The total of 15 commemorations is one of the highest in any English cemetery.
Five of the 12 buried at the cemetery were awarded the military's highest honour for gallantry during World War One.
The remaining seven were honoured for their actions between 1854 and 1903.
The Victoria Cross Trust will undertake the work between 23 and 27 March.
Brookwood Cemetery is the largest cemetery in the UK.
It adjoins Brookwood Military Cemetery which is run by the Commonwealth War Graves Commission.
Correction 10 February 2015: This report has been amended to make clear it involves Brookwood Cemetery and not the military cemetery. The number of Victoria Cross holders from WW1 has also been corrected from 12 to five.