Closed Merok Park care home rated inadequate by inspectors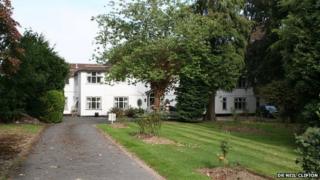 A care home that was closed down after inspectors found appalling failings has been rated as "inadequate" in every category in a subsequent report.
Two people died after they were moved from Merok Park in Banstead, Surrey, and its sister home in Grantley Court in Sutton, south London, in December.
Care Quality Commission inspectors found Merok Park was dirty and the smell of urine was overpowering.
They also saw staff being rough with people and ignoring those in distress.
Dementia sufferer Alfred Dodd, 85, died from pneumonia two days after being moved from Merok Park after it was ordered to be immediately closed down.
Winifred Lake, 91, died after being moved from Grantley Court, which is currently the subject of a police investigation into alleged injuries caused to three elderly residents.
Both homes were run by Soondressen Cooppen and his wife Maleenee.
Inspectors removed Merok Park's registration, which meant it could no longer legally operate, on 9 December.
They were in the process of doing the same for Grantley Court but Mr and Mrs Cooppen took the decision to close it down themselves.
All the residents were moved to other care homes.
'Soiled waste'
The couple also run a third home, Faygate House, in Mayfield Road, Sutton.
The Care Quality Commission (CQC) said unannounced inspections had taken place at Grantley Court and Faygate House and the reports would be published in due course.
Two unannounced inspections and three other visits were made to Merok Park during November and December.
Inspectors found there were not enough staff on duty, and at times there had been only one nurse to look after 27 people.
Staff regularly worked more than 50 hours a week, with some working as many as 84 hours.
Soiled clinical waste was seen to have been left in open bags, taps in some of the rooms had no hot water, and mattresses were not fit for purpose.
Cleaners and other staff were also found not to have been trained in infection control.