Duchess of Cornwall presents trophies at Sandown Park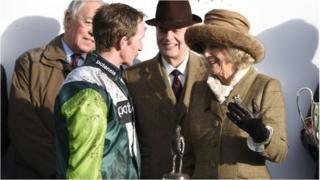 The Duchess of Cornwall has cheered on soldiers taking part in the Royal Artillery Gold Cup at Sandown Park racecourse in Surrey.
The event saw history made when amputee soldier Guy Disney became the first person to ride over fences with a prosthetic leg in a race in Britain.
Lance Bombardier Jody Sole won after Cowards Close came first.
The annual event is open to horses owned or leased by those serving or who have served in the Royal Artillery.
Jockeys must be amateurs and must also be past or present members of any of the armed forces.
The Duchess met officers and soldiers before returning to the Royal Box to watch the race, and present the Royal Artillery Gold Cup.