Ashford and St Peter's NHS admits sepsis failings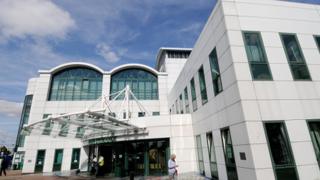 A Surrey hospital trust has admitted it has not been managing sepsis as well as it could after its care of a 77-year-old man with the life-threatening condition was criticised.
The health service ombudsman said failures by Ashford and St Peter's NHS (ASPH) reduced his chances of recovery.
He was admitted with several problems including sepsis, but sepsis was not recognised for more than two hours.
Antibiotics were not started until four hours after admission. He later died.
The Parliamentary and Health Service Ombudsman (PHSO) said although the man was managed appropriately once he was in the care of the medical team, the care he received during the initial period did not meet the expected standard.
His daughter said: "My father went into hospital with sepsis and never returned home again. Nothing in this world can replace him and all the family are devastated by such a loss."
'Fast-track system'
ASPH agreed to pay the man's daughter £1,200 in compensation for the distress and to acknowledge and apologise to her for the failings, the PHSO said.
Suzanne Rankin, trust chief executive, said she offered her personal condolences.
"Sepsis is a condition that requires urgent treatment and it's clear that, whilst much of the care given in this case was good, we failed to recognise those early, critical symptoms," she said.
She said, like many other hospitals, ASPH acknowledged it had not been managing sepsis as well as it could.
Ms Rankin said the trust was committed to improving the way it diagnosed and treated the condition.
Urgent actions had been taken since the case in January 2012 including staff training and the introduction of a fast-track system for sepsis, she said.
Sepsis is triggered by infections and causes about 37,000 deaths a year in the UK.