Waverley green belt in 'developers' gold rush' warning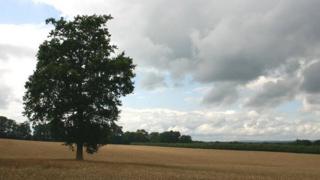 Delays in finalising plans for building on green belt land in Surrey risk creating a "developers' gold rush", it has been claimed.
Waverley Borough Council was expected to publish draft plans for nearly 8,500 homes across the area in March.
It has now said it does not yet have enough information, particularly about the impact on traffic, to proceed.
Critics said the delay and lack of a firm plan would encourage speculative planning applications from developers.
'Rolling fields'
A consultation launched in August with four scenarios, including proposals to build on green belt sites in Farnham, Godalming, Cranleigh, Haslemere and some villages.
Three of the options included developments on Dunsfold Aerodrome, a brown field site.
Prospective Liberal Democrat candidate Patrick Haveron said the council should carefully consider the best locations for new houses.
"This area is beautiful rolling fields but because there is no plan in place it has become a developers' gold rush," he said.
'Snarled up roads'
"They could literally put in applications speculatively on any of the fields around here, and essentially have these decisions made and granted on appeal, because Waverley doesn't have a plan in place."
Howard Kaye, Labour Party candidate for South West Surrey, said the council had delayed the issue for far too long.
"It's leaving the way open for big developers to do what they want, which is quite a frightening prospect," he said.
"If we don't get a plan in place what we'll see is piecemeal development all over the place."
Bill Hislop, of Binscombe Green Belt Group, said traffic problems would need to be solved before development on any sites could begin.
"Roads like the A281 get completely snarled up morning after morning and they need to do something very serious about that," he said.
Leader of the Conservative-led council Robert Knowles said Waverley had not yet received enough information about the impact more housing would have on infrastructure.
He denied the lack of a local plan would encourage speculative development, and said the authority had recently turned down eight green field housing developments.