Bravery award after Surrey crash pilot's life saved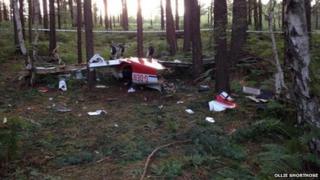 A woman who went to the aid of the badly injured pilot of a light aircraft which had crashed in woods in Surrey is to be recognised for her bravery.
Charlotte Purcell spotted the wreckage while out walking in Churt last August.
William Dewey, 82, from Guildford, was unconscious and had a collapsed lung, six broken vertebrae and broken ribs.
Doctors said Ms Purcell's swift medical assistance with the aid of a first aid kit that had been thrown from the plane had saved his life.
The mother-of-four, who is in her 40s and lives in Churt, is to receive a Royal Humane Society testimonial.
Mr Dewey had been attempting to land at nearby Frensham airfield when his plane came down in a wooded area known as Furze Hill.
Dick Wilkinson, secretary of the Royal Humane Society, described Ms Purcell as a "true heroine" and said "she was the right person in the right place at the right time".
"The plane could easily have caught fire or exploded but she didn't hesitate in going to the help of Mr Dewey.
"He owes his life to her swift and incredibly courageous action."
Mr Wilkinson added: "The area was soaked in fuel and, when Mr Dewey regained consciousness, he shouted to her to get away in case the site caught fire.
"However, she stayed with him until the emergency services arrived on the scene and cut him free from the wreckage."
Mr Dewey, who nominated Ms Purcell for the award, said he owed her "a great debt".
"You can imagine how privileged I feel to have met such a brave kind-hearted and sensitive woman," he said.