New Deepcut inquest into death of Cheryl James delayed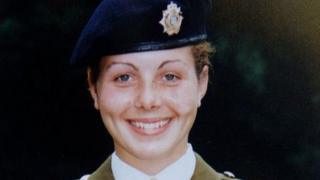 A decision over when a fresh inquest can start over the death of Pte Cheryl James at Deepcut barracks in Surrey has been delayed.
The 18-year-old from Denbighshire was found dead in November 1995 with a single bullet wound to the head.
A previous inquest recorded an open verdict, however, a new inquest was ordered in July.
During a pre-inquest review at the High Court a barrister for Surrey Police requested the new inquest was delayed.
The force wants the delay in case applications for fresh inquests into the deaths of three other soldiers at Deepcut - Pte Sean Benton, Pte Geoff Gray and Pte James Collinson - are made.
The hearing has now been delayed for at least four weeks.
Pte James's parents - who believe their daughter suffered sexual harassment and violence - want the new inquest into her death to be held separately and as soon as possible.
---
The Deepcut deaths
June 1995: Pte Sean Benton (far left), from Hastings, East Sussex, found dead with five bullet wounds to chest. Verdict: Suicide
November 1995: Pte Cheryl James (second left), from Llangollen, Denbighshire, found dead with single bullet wound to head. Open verdict
September 2001: Pte Geoff Gray (second right), from Seaham, County Durham, found dead with two gunshot wounds. Five shots were fired, three never found. Open verdict
March 2002: Pte James Collinson (far right), from Perth, found dead with single gunshot wound. Open verdict
---