Al-Hilli Alps murders: Motorcyclist suspect ruled out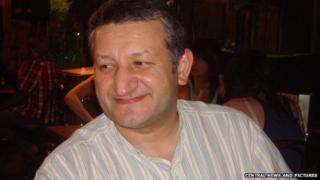 A motorcyclist who was being sought over the murders of four members of a Surrey family in the French Alps has been ruled out of the investigation.
Saad al-Hilli, 50, was shot with his wife Iqbal, 47, his mother-in-law Suhaila al-Allaf and French cyclist Sylvain Mollier on 5 September 2012.
Daughters Zainab, then aged seven, and Zeena, four, survived the attack.
The biker turned out to be a local company owner, the French prosecutor told local media.
In November, French investigators had said they were looking for a mystery motorcyclist who was seen near the crime scene.
One lead in tracing the man was that he was wearing an unusual helmet, only a few thousand of which had been made.
The BBC's Lucy Williamson said: "Police had issued an artist's sketch of a motorcyclist seen near the site of the Annecy killings, and after more than a year of investigation, had managed to find and interview the man in question."
'Major setback'
Reporting from the BBC's Paris bureau, she said: "Now officials have told French media that he is above suspicion and has been released without charge."
The motorcyclist, who has "an honourable reputation", had been on his way home after a paragliding trip, she said.
"The new development is being described here as a major setback for police who had focused much of their attention on the mystery biker," the reporter said.
Mr al-Hilli's brother Zaid was arrested on suspicion of murder in June 2013.
Surrey Police said there was not enough evidence to charge the 54-year-old from Chessington.
Lake Annecy shootings
The shootings took place in a forest car park.
Saad al-Hilli was an Iraqi-born British citizen. His wife held an Iraqi passport and her mother was a Swedish national.
Cyclist Sylvain Mollier was a 45-year-old father of three who worked in the area.
Several witnesses saw a car speeding away from the scene.
Police were instructed not to disturb the bodies - which was why the al-Hillis' daughter Zeena was not found for eight hours.
The bodies of the couple, from Claygate, Surrey, Ms al-Allaf and Mr Mollier were found on a remote forest road in Chevaline near Lake Annecy.
The two young girls survived the attack, one by hiding under her dead mother's skirt.
The family were on holiday by Lake Annecy when they were attacked.