One millionth Morris Minor auctioned in Surrey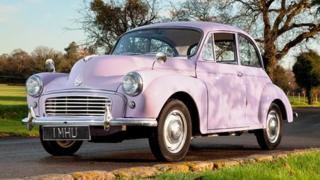 The one millionth Morris Minor ever built has been sold at an auction for £25,760.
The classic British-built car was sold earlier at the Surrey auction house, Historics at Brooklands.
It was one of 349 "millionth" Morris Minors built in 1960. However, this car was the actual one millionth built.
Stewart Banks, from Historics, said there had been an "awful lot of interest" in the car, which had an estimate of between £22,000 to £26,000.
He said: "There were 349 made but this is the only one with the million mark on its chassis.
"The Morris Minor has a very loyal fan base - people have them for years. This particular car has been owned by the vendor for 19 years.
"It is just the quintessential British motor car."
---
Morris Minor history
Morris Minor cars were made in England from 1948 to 1971 with 1.3 million produced
They were designed by Alec Issigonis who later created the Mini
The final large-scale technical improvement for the Minor came in October 1962 when the 1098cc car was announced
Sales declined during the 1960s and although not axed when British Leyland was formed in 1968, the convertible was phased out in 1969, the two and four door saloons in 1970, and finally, the popular Traveller version in 1971
SOURCE: www.morrisminor.org.uk/
---
The "millionth" cars were built to celebrate the first time a British car manufacturer had built that number of cars, Mr Banks said.
All of the cars were two-door examples and finished in Lilac with white leather trim.
After it was built, the car was passed to the National Union of Journalists for use in a national fundraising campaign in aid of the British Red Cross.
It was subsequently raffled on national television.
Prior to the auction, Mr Banks said: "I could see the car selling for anything really.
"It could go for £15,000 if there's not the right person in the room or £40,000 if there is.
"But with the inquiries we have had, I can see it hitting the upper end of that."