Woking Hoe Valley free school found permanent home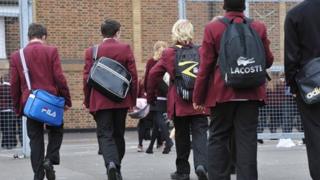 A free school planned to open on a temporary site in September has been found a permanent location.
Woking Borough Council said the Hoe Valley School would open on greenbelt land in Egley Road in 2017, subject to planning consent.
In January, the council allocated part of a coach park as a temporary site after a building could not be found.
Council leader John Kingsbury said there were "special circumstances" for using greenbelt land.
'Perfect site'
The council said extensive research to locate a suitable urban site had concluded there was a strong argument for use of the greenbelt site.
Plans include purpose-built school buildings with access to proposed council-run sports and leisure facilities that would also be available for public use.
Landowner Leigh Place Properties has agreed to sell up to 22 acres to the council, the authority said.
Mr Kingsbury said Woking would need an extra 90 secondary school places by 2017 and a further 210 by 2021.
"I am acutely aware of the impact this announcement may have on local residents and the fact that the proposed site is designated greenbelt land," he said.
"Yet these are very special circumstances and the need to provide young people within our community with a good local education is the responsibility of us all."
Chair of governors, Lynne O'Reilly, said it was a perfect site in the heart of the community the school aimed to serve.
She said most students would be able to walk or cycle to the school which would serve the south Woking area.
Plans for the temporary site are currently being considered and an application for the permanent site is due to be submitted in May.