Highways Agency moves from Dorking to Guildford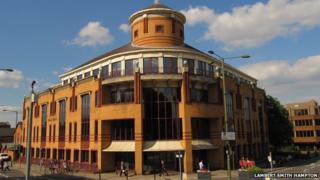 The Highways Agency has moved into refurbished headquarters in Surrey, weeks before it is replaced by a new government-owned company.
About 330 staff have been moved to Bridge House, opposite Guildford railway station, from the Highways Agency's former officers in Dorking.
The agency is to be replaced on 1 April by Highways England, which will take over responsibility for major roads.
It said the new company would take on a longer-term planning role.
Highways England, which was set up in the Infrastructure Act which became law earlier this year, will be responsible for more than £15bn roads investment by 2021.
Transport Secretary Patrick McLoughlin, who officially opened the new building on Thursday, said Highways England would have a programme of work for the next five years.
"This has never happened before," he said.
"It means we are not only saying to Highways England what we expect but also saying to the construction industry, the building industry and the road building industry these are the projects we are going to be looking at.
"When we first started doing smart motorways they were costing £10m a mile and they are now costing £8m.
"So if you have the right kind of pipeline planning you drive down costs so you get more for less."