Major Stoke Park revamp 'could cost millions'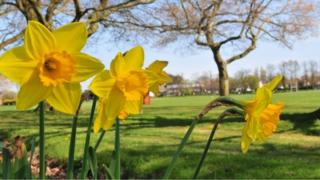 Ambitious plans for an 18th Century park that hosts some of Surrey's biggest events could cost several millions, a council chief has said.
Guildford council wants to open a visitor centre, venue and restaurant, and restore features such as water cascades and the model farm.
Council leader Stephen Mansbridge told BBC Surrey costs had not yet been drawn up but would be "a number of millions".
He said the park was "a tremendous place" but could be "much better".
Stoke Park, owned by the council since 1925, has been used for events such as the Surrey County Show, Race for Life, the music festival Guilfest and the Olympic Torch Relay.
Up to 70,000 people are expected to gather there for National Armed Forces Day in June.
Mr Mansbridge told BBC Surrey: "When you go the Surrey County show and other events that take place on Stoke Park, it feels full and it feels busy, and that's great.
"But when those events aren't happening, it's a big place."
Referring to the cost of the revamp, he said: "I can't give you an accurate figure, but whatever it does cost, it will be a number of millions, which has to be balanced against what it will earn.
"The principles of this council have always been about being very prudent in financial terms and if we're going to do something exciting, we will certainly do it, but we will make sure in cost terms that it pays for itself."
The council said extensive public consultation would be carried out this summer.