Cash boost for weather-battered Guildford Cathedral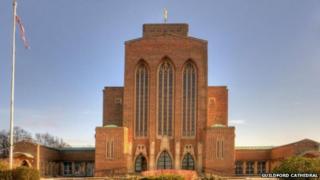 Guildford Cathedral has been awarded £500,000 for vital repair work to its weather-battered roof, tower and transepts.
The award comes from the government's First World War Centenary Cathedral Repairs Fund, which supports repairs to historic buildings.
The money follows a £4.6m grant from the Heritage Lottery Fund for the Grade II listed building.
Work is due to begin in the summer and should take a year to complete.
Matt O'Grady, director of operations at the cathedral, said: "The impact of water penetration has clearly been felt over recent winters with damage to fabrics, fittings and equipment visible.
"This award will enable us to undertake urgent work to address the challenges of water penetration caused by the Cathedral's elevated and exposed location and compounded by its brickwork and copper construction."