Surrey County Council's Magna Carta event costs soar by 400%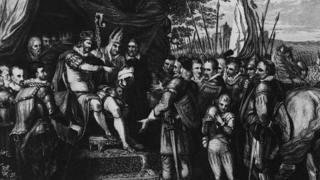 The cost of a one day event to mark the 800th anniversary of the sealing of Magna Carta has risen by 400%.
The event on 15 June, paid for by Surrey County Council, will cost £500,000. The original budget was set at £100,000.
Surrey County Council leader David Hodge said the amount was a "modest investment" considering the economic and educational benefits of the event.
He also claimed the anniversary would generate millions of pounds in tourism.
The Magna Carta, one the most famous documents in world history, outlined a set of basic legal rights including that no-one was above the law.
It also helped establish the concept of trial by jury.
As such, events are being organised across the world to mark the 800th anniversary of its sealing in June 2015.
'Strange spending'
In September 2014, when the budget was still at £100,000, the council's community select committee said the event would be "an exciting celebration of the foundation of liberty through the Magna Carta".
It added it would be a "contemporary event full of music, drama and action that remembers the past but acknowledges the future".
Eber Kington, who is the residents' association county councillor for Ewell Court, Auriol and Cuddington, criticised the cost rise.
He said: "No-one disputes that the signing of Magna Carta is a significant moment in our history.
"However, with Surrey County Council already announcing cuts to the highway budget, youth services and children's centres, this does seem a strange spending priority".
But Mr Hodge said: "The sealing of the Magna Carta is a big part of Surrey's proud history and this modest investment will help to improve the area and its infrastructure, create a lasting legacy for the Magna Carta's Runnymede birthplace, and attract visitors for June's celebrations and beyond.
"I'm disappointed but not surprised that the opposition do not want to invest money to improve the site or the local roads."
Magna Carta
•Magna Carta outlined basic rights with the principle that no-one was above the law, including the king
•It charted the right to a fair trial, and limits on taxation without representation
•It inspired a number of other documents, including the US Constitution and the Universal Declaration of Human Rights
•Only three clauses are still valid - the one guaranteeing the liberties of the English Church; the clause confirming the privileges of the City of London and other towns; and the clause that states that no free man shall be imprisoned without the lawful judgement of his equals
•The British Library has two copies of the 1215 Magna Carta
•One original copy is owned by Lincoln Cathedral and one by Salisbury Cathedral
Source: The British Library