West Molesey record shop owner in battle with Royal Mail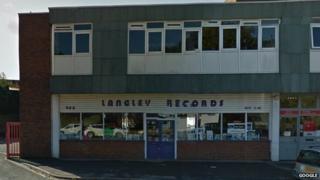 The owner of a 42-year-old record shop is hoping a petition will avoid him being forced to close by Royal Mail.
More than 2,300 people signed to save Langley Records in West Molesey, Surrey, which is in a Royal Mail building.
Geoff Langley rents the property, but said he had been trying to get a lease since the old one expired in 1994.
Royal Mail made no comment about the lease, but said it wanted to change the outlet from retail to distribution.
It has submitted a planning application to Elmbridge Borough Council to extend its delivery office premises next door.
It said it also required more secure parking for its delivery vans.
Letter to Queen
Mr Langley, 79, opened the store in Walton Road in 1973, and his vinyl records stock attracts customers from all over the UK and abroad.
He said he realised the situation with Royal Mail was more complicated because he does not have a lease, but it was not his fault.
"I've never had any joy about securing a new lease," he explained.
"I must have spoken to about 100 different people, and I've had two solicitors and three MPs working on it.
"I even wrote to the Queen as the head of Royal Mail."
The council said that due to the number of objections received following Royal Mail's application, the matter would need to be considered at sub-committee level, which would possibly be on 26 May.