Surrey M25 driver watched Lord of the Rings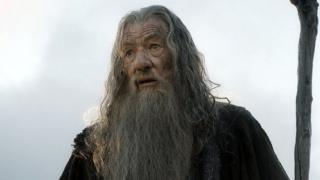 A van driver has been stopped on the M25 for watching a Lord of the Rings DVD while travelling at about 60mph, according to Surrey Police.
Surrey Police said the man was thought to have been using a portable DVD player on his dashboard.
The incident near Cobham led to a spate of Lord of the Rings puns on Twitter.
Dave Comeau tweeted: "@SurreyRoadCops Where did you stop them? Don't say Mordor ;)"
And Keithy Boy wrote: "@SurreyRoadCops and if they need to retake their driving test, advise them "YOU, SHALL, NOT, PASS!!""
Police said the Guildford man in his 30s was driving a Ford Transit van when he was stopped on the clockwise carriageway.
Traffic was flowing at about 60mph at the time of the incident, just before Cobham services at about 07:45 BST.
Officers said the man, who was the only person in the van, was reported for driving without due care and attention.
Surrey Police tweeted: "We just stopped a #Lord of the rings fan. Watching it on DVD whilst driving is not good. #points #fines #gandalf"