Surrey University students fight to save politics department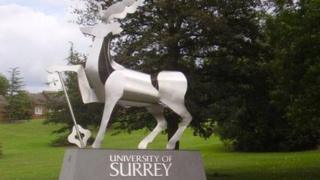 More than 1,400 people have signed a petition supporting students who say their university's politics department is under threat.
Students at the University of Surrey say 100 planned job cuts will "effectively close" the department, which will lose nine out of 14 staff.
As well as politics, jobs will go in arts and music, electronic engineering, bioscience and computing.
The university has said it will not close any departments or courses.
Student spokeswoman Vanda Green, who graduated last year, said lecturers were told the politics department would be restructured.
"Students were emailed and told the restructuring wouldn't necessarily have a big impact," she said.
Research-led teaching
"But on finding that nine out of the 14 jobs would be cut we agreed this would have a significant impact.
"As a student you want to go somewhere there is research-led teaching, especially in politics as a social science."
The University and College Union (UCU) is balloting its 292 members at the Guildford-based institution on a possible strike later this term.
The university said it had undertaken an operational review to ensure it remained a leading UK institution with a financially sustainable future.
"Our income has not really grown over time," said Paul Stephenson, vice president of HR.
"The student fee that was set in 2012 at £9,000 hasn't changed and now it's only worth about £8,200.
"Our costs have risen ahead of our income."
He said that so far about 36 staff had opted for voluntary redundancy.