Five guilty of conspiracy to defraud Woking ballot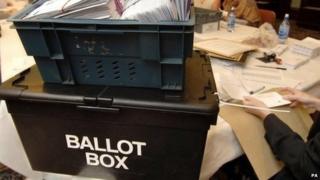 Five people have been found guilty of conspiracy to defraud a local government election.
Lib Dem Mohammed Bashir won the Woking Borough Council seat in Surrey by 16 votes in May 2012 but a judge ruled there had been corrupt and illegal practices.
Charges were brought after police investigated allegations that postal votes were fraudulently submitted.
The Conservatives won a subsequent by-election, held in September 2013.
Shaukat Ali, 56, Parveen Akhtar, 48, Shamraiz Ali, 28, Sobia Ali Akhtar, 23, and Abid Hussain, 40, all from New Haw, Surrey, will be sentenced on 9 June at Reading Crown Court.