Gallipoli Victoria Cross memorial unveiled in Woking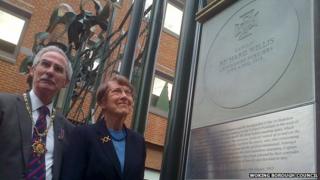 A commemorative stone has been unveiled in Surrey for one of six soldiers who received a Victoria Cross in the Gallipoli campaign in April 1915.
Major Richard R Willis, who was born in Woking, received the highest military decoration for valour.
He was serving in the Lancashire Fusiliers when he led his men in battle at Cape Helles in Turkey 100 years ago.
Members of his family were at a service of commemoration at Christ Church in Jubilee Square, Woking.
Councillor Tony Branagan, the mayor of Woking, said: "It is an honour to join Major Willis's daughter for the unveiling of this commemorative stone.
"It is truly humbling to hear his acts of bravery and the sacrifices he and his men made during the first day of the Gallipoli campaign."
Six Victoria Crosses
Major Willis was born in Woking in 1876 and lived in the Hermitage area before moving to Devon as a young boy.
On 25 April 1915, his regiment was ordered to advance on W beach on the Gallipoli peninsular.
They met immediate Turkish opposition and hundreds of men were killed before they reached the beach.
Major Willis was wounded and returned to England in June 1915. He received his Victoria Cross from King George V at Buckingham Palace in September the same year.
It was one of six Victoria Cross medals won by the regiment on the first day of the Gallipoli campaign.