Epsom and St Helier Hospital Trust to pay birth damages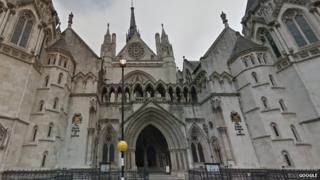 An NHS health trust has agreed to pay millions of pounds in damages to a woman who was left disabled following complications during her birth.
The woman, who cannot be identified for legal reasons, suffered severe injuries as a result of negligence during her mother's labour 20 years ago.
Epsom and St Helier University Hospitals NHS Trust admitted liability.
The money will cover the costs of the care she will need for the rest of her life, the High Court heard.
Neil Block QC, for the trust, told the court in London the woman had become a keen athlete who had "striven against adversity".
'Great burden lifted'
"I had the opportunity to meet her and her family and we are delighted we have been able to settle this case," he said.
"Her family has given her remarkable support and clearly, whilst one can never replace what has been lost, we hope that they will now feel financially secure and that it is a great burden lifted from their shoulders."
The precise terms of the settlement were kept confidential, but will consist of a lump sum, plus annual payments.
Mr Justice Singh, who approved the settlement, said: "It is very difficult for me to imagine what life must have been like for the last 20 years.
"What is clear to me, however, is that the claimant is a remarkable young person who will no doubt inspire others because of her hard work and resilience.
"I give her my very best wishes for the future, as I do to her family as well."