Guildford council validates petition for elected mayor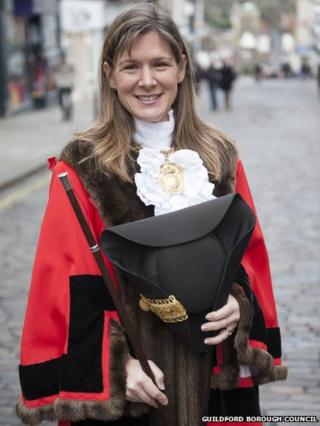 A petition calling for a referendum on a directly-elected mayor is being checked by Guildford council to see if it could trigger a public vote.
Legally, it needs at least 5% of local electors - in this case 5,012 - for a referendum to go ahead.
The council is now validating the entries to ensure all petitioners are on the electoral register.
If there are enough names and the petition is valid, there will be a vote across the borough within six months.
Extensive powers
The role of a directly-elected mayor is different from a ceremonial mayor, which Guildford currently has in the form of Councillor Nikki Nelson-Smith.
There are currently 17 directly-elected mayors in England and they all have extensive powers.
Following a successful "yes" vote in a local referendum, a directly-elected mayor would be established to replace the council leader.
Councils can also change to the mayoral form of governance without a vote, provided the model they are changing from was not itself the result of a referendum.
Guildford Borough Council said its validation must be completed by Wednesday, 17 June.
If there are not enough valid signatures, valid names can remain on the petition for 12 months and petition organisers have the opportunity to collect further signatures