Family name River Wey missing kayaker as Grant Broster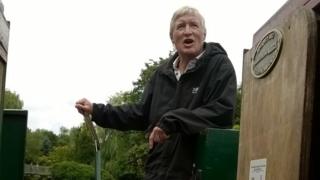 A man missing after his kayak overturned on a flooded river in Surrey has been named by his family.
Grant Broster, 56, from Guildford was using his family's kayak on the River Wey in the town on Monday when it capsized.
Mr Broster's wife, Rachel, said: "He had not seen the flood warnings."
She said their son entered the fast-flowing water to try to help him, but was pulled to safety. Divers have been trawling the river in Millmead.
In a statement, Mrs Broster said there had been no sightings of her husband.
Police officers have been working alongside colleagues from Surrey Fire and Rescue and Surrey Search and Rescue since he was reported missing.
A flood warning had been put in place for parts of the River Wey following heavy rain and storms over the weekend.
A police helicopter, firefighters and ambulance crews were all at the scene on Monday.
The river is popular with kayakers.
Wey Valley Kayak Club, which has about 400 members, is situated about one mile down river from where the man capsized.
It tweeted on Monday morning the Wey from Godalming Wharf to Thames Lock was not safe.