Camberley attack: Woman sexually assaulted after leaving club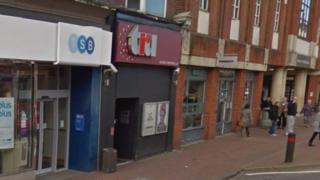 A woman has been attacked and sexually assaulted after leaving a nightclub in Surrey.
Police are appealing for witnesses to the attack in Camberley in the early hours of Saturday.
The 19-year-old was grabbed and dragged to a grassy area after she left Tru nightclub and walked along the A30 London Road towards Blackwater.
The suspect is described as a tall, white man in his early 20s, with dark hair and freckles, wearing a T-shirt.
Det Sgt Ross Linaker said: "The victim has been put through a very distressing ordeal and it is vital that we bring the person responsible to justice."
He reassured Camberley residents there would be an increased police presence in the area over the coming days.
Anyone with information that could help the investigation is urged to come forward.