Guildford council sets date for elected mayor referendum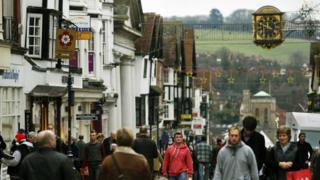 A referendum for a directly-elected mayor will be held in Guildford on 13 October, following a valid petition.
The document, submitted in May, needed 5,184 valid signatures to trigger a public vote on the role. It gained 5,269.
If the votes are cast in favour of the position, a directly-elected mayor will replace the council leader.
The position would have wide ranging decision-making powers, unlike the current ceremonial position.
Missing details
Guildford Borough Council said it originally received a petition in May 2015, but it was declared invalid because some entries were missing details such as first names, surnames or addresses, or the signature was unreadable.
The organisers were allowed to submit further petitions which could be amalgamated with the original one and did so in February, March and April 2016.
The latest amalgamated petition was found to be valid, the council said.
An Extraordinary Council Meeting will be held on 12 July to consider proposals for the operation of a directly-elected mayor and cabinet form of governance if it is approved at the referendum, it added.
There are currently 17 elected mayors in England.