Dead woman named in Earlswood murder investigation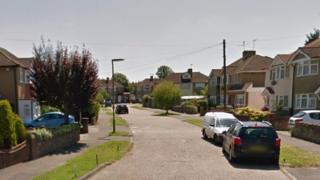 A woman who is thought to have been murdered at a house in Earlswood has been named by police.
The body, not yet formally identified, is believed to be that of Dawn Rhodes, 38, and her next-of-kin have been informed, Surrey Police said.
Officers discovered the body when called to a property in Wimborne Avenue at 19:30 BST on Thursday.
A man in his 40s was taken to hospital with non-life threatening injuries and is being held on suspicion of murder.
Chief Insp Paul Rymarz said: "This is a tragic incident and our thoughts are with the woman's family and friends.
"Officers will continue to be visible in the area over the weekend while the investigation continues into what we believe to be an isolated incident."