Zane Gbangbola flood death: Mother's tribute as inquest begins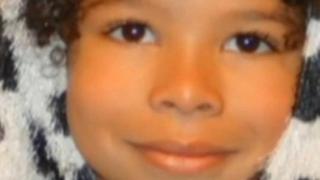 The mother of a seven-year-old boy who died during floods in Surrey two years ago has told an inquest she wants to ensure he "dies in truth".
Zane Gbangbola died after the outside of their Chertsey home was engulfed by floodwater which the family believe was contaminated with toxic fumes.
Nicola Lawler and Kye Gbangbola, who was paralysed by the incident, have fought for the truth about his death.
Ms Lawler told Woking Coroner's Court their son had been "a gift".
"He walked in truth. We are here today to make sure he dies in truth," she said.
The schoolboy was found not breathing at their home in Thameside in the early hours of 8 February, and he died in hospital.
An initial post-mortem examination into his death proved inconclusive.
Further tests, which disclosed that his death was as a result of carbon monoxide poisoning from a petrol-driven water pump at their property next to the Thames, have been disputed by his parents.
They believe he was killed by hydrogen cyanide in floodwater contaminated by an old landfill site next door.
Giving evidence on the first day of the inquest, Ms Lawler said health and safety concerns had meant they were not able to move back into their home until a year after Zane's death.
A number of new features were installed in the house by the insurance company, including gas-proof membranes in the internal walls, cross ventilation and hydrogen cyanide alarms, she said.
Ms Lawler told the inquest that she believed some people living nearby, who were unable to afford gas-proof membranes for their homes, could be "living on a ticking time bomb".
It also heard that in the two weeks before Zane died all three family members living in the house had been ill in some form.
Senior Surrey coroner Richard Travers said: "It is likely that the fact that Zane died as a result of toxicity will not be in contention.
"The question may well be which toxic substance was responsible."
Mr Travers said the inquest - which is expected to last until mid to late July - will look at whether it is likely Zane died as a result of carbon monoxide poisoning or hydrogen cyanide poisoning.
Addressing the court about the point of an inquest, he said: "I should emphasise that it is not part of this court's function to apportion blame, and by that I mean liability."
The inquest will continue on Tuesday.