Zane Gbangbola flood death: Father says petrol pump 'not on'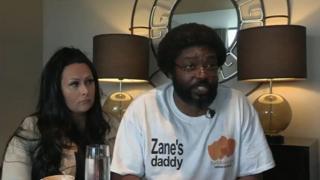 A father has told an inquest into his son's death a petrol-driven pump, hired to clear floodwater, "wasn't running" before the seven-year-old died.
Zane Gbangbola was found not breathing at the family's home next to the Thames at Chertsey, Surrey in February 2014.
An initial post-mortem was inconclusive but later tests suggested he died of carbon monoxide poisoning.
His parents hired a petrol-driven pump to deal with the water, but claim water contamination was the cause of death.
They believe Zane died from hydrogen cyanide in floodwater polluted by a nearby former landfill site.
The boy's father, Kye, was paralysed and is now a paraplegic as a result of the flooding on 8 February 2014, when homes were evacuated and 15 people were taken to hospital.
Mr Gbangbola told the inquest in Woking there were "no petrol pumps running" but said there were "umpteen" references to hydrogen cyanide in his own medical reports, which were "ignored".
He also claimed the levels of carboxyhaemoglobin found in Zane's body were not fatal. "Nobody dies at 8%," he said.
The hearing at Woking Coroner's Court was told last Friday that a man who rented out the pump was "sloppy" when filling out a hire form.
Jerry Toogood, who was branch manager at Surrey Hire and Sales Ltd in Addlestone, said Zane's mother Nicole Lawler had asked him if she could use the pump indoors and he told her "no".
But Leslie Thomas QC, for the family, said there were "serious failures" on the part of Mr Toogood because he did not fill out a tick-box form confirming safety instructions were given.
The inquest continues.