High rent forces Weybridge hospice to change plan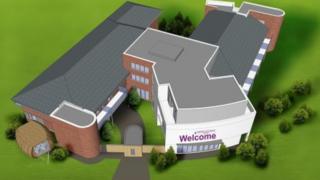 A hospice providing palliative care and support for patients and their families in Surrey is to close one of its sites because it cannot afford the rent.
In-patient and day care services at Sam Beare Hospice are being relocated from Weybridge to a new site in Woking.
The charity had wanted to keep its old building - which had been provided rent free - as a Wellbeing Centre.
But the hospice said NHS Property Services had indicated the rent could be up to £300,000 per year from April.
The charity said maintaining the building was "no longer financially viable".
North West Surrey Clinical Commissioning Group and NHS Property Services said Woking and Sam Beare hospices were "a greatly loved and respected local service".
'Needs of patients'
A spokesman said: "We recently met with representatives of Sam Beare and offered our support to maintain a presence at Weybridge hospital.
"We are now waiting for the charity to outline formally how we can best help them to do that."
The new hospice building in Woking is currently under construction and is due to open in Spring 2017.
From December until it opens, Sam Beare patients will be cared for in their homes and in the current Woking Hospice.
Nigel Harding, chief executive of Woking and Sam Beare Hospices, said: "We have always planned to relocate into the new facility in Goldsworth House, so those in-patients will be looked after exactly as they are now, except for them being in a different facility."
He added: "Financial resources would be far better utilised meeting the needs of patients than covering the high costs of newly implemented rental and service charges.
"Sadly we must now move out of the Sam Beare building but the first rate services we provide to all those in north-west Surrey will continue to grow and develop well in to the future."