DNA hope in rape case from 35 years ago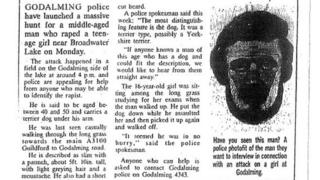 A man who raped a teenage girl 35 years ago but was never caught is the focus of a fresh investigation.
A DNA profile of the suspect, who had a dog with him, has been created due to advances in forensic science, leading Surrey Police to reopen the case.
The victim, then 16 but now in her 50s, was attacked by the middle-aged man, who would now be aged 75-85, in Godalming.
Police also want to find an older woman who the victim saw after the attack.
Det Ch Insp Jo Hayes believes they can catch the rapist and said police "owe it" to the victim to find him.
She said he could now be someone's elderly friend or neighbour.
Rapist's dog
On Monday 20 June 1983 at around 16:00 the girl was sitting on some grass reading near Godalming Town Football Club.
The man, who had a terrier type dog with him, approached her.
He then assaulted her before picking up his dog and walking off.
At the time, the suspect was described as white, aged between 40 and 50 years old and of slim build with a pot belly.
He was around 5ft10 with light, greying hair and a moustache. He also had a short, cut beard.
An e-fit of the suspect was created during the original investigation, but did not produce any leads.
'Terrifying ordeal'
Ms Hayes added: "We are hoping that someone might be able to remember perhaps a neighbour, colleague, friend or relative who used to walk around with a terrier type dog back in 1983 and who fits the description given.
"We are also looking to trace an older woman who the victim remembers seeing in the area after the event and might have witnessed what happened," she said.
"The teenage girl suffered a terrifying ordeal that day."