Surrey Police looks for new headquarters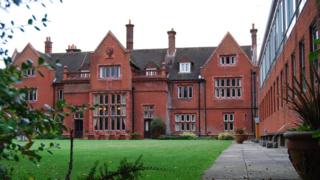 Surrey Police is set to move its headquarters from Guildford to "somewhere more central", the force has announced.
David Munro, Surrey police and crime commissioner (PCC), said the current Mount Browne site was expensive run.
The process to find a new site, probably in the Leatherhead and Dorking area, is likely to take "at least four to five years", a spokesman said.
Any new building would also replace sites in Woking and Reigate.
"The plans are designed to deliver long-term savings by moving out and disposing of some of the current outdated and costly buildings and creating a modern and cost-effective estate," a Surrey Police spokesman said.
Area policing teams will continue to operate from their local boroughs, and Guildford and Staines-upon-Thames police stations will remain as they are, the force said.
Mr Munro said: "We must look to the future and designing a new HQ gives us a unique opportunity to really think about what we could do differently to deliver an even better service to the public.
"We have looked carefully at the potential budget for the project and whilst there will be inevitable relocation costs involved, I am satisfied that this investment will provide savings in the long-term."