Sun on mirror sets fire to cottage in Bolney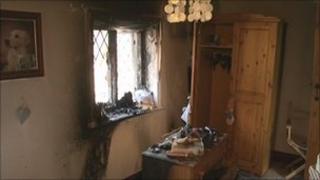 The bedroom of a West Sussex cottage was damaged by fire when birthday cards and pot pourri were set alight.
West Sussex Fire and Rescue Service said a dressing table mirror at the cottage in The Street, Bolney, focused the sun's rays on to the items.
The occupiers were out at the time but neighbours heard a loud noise and called the emergency services.
"Fortunately, on this occasion, the damage was limited to the bedroom," said incident commander John Lainsbury.
"It could easily have been a lot worse."
Low on horizon
Two fire engines, from Haywards Heath and Hurstpierpoint, attended the fire at 1713 BST on Tuesday.
"Although incidents such as this are rare, there have been a number of house fires that are known to have started because of sunlight being refracted by mirrors or glass ornaments when the sun is low on the horizon," said Mr Lainsbury.
"In this case the bedroom window was facing west and the mirror was in direct line with the sun, causing the materials to catch fire."
He said fire service advice was always to keep mirrors and ornaments out of contact with direct sunlight and never to keep them on windowsills.