Wildlife board for Eastbourne shingle beach visitors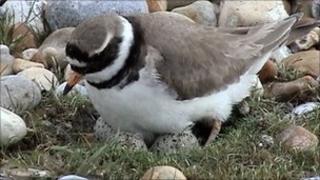 Work to raise awareness of shingle beaches and the wildlife that lives there is under way in East Sussex.
The latest development in a three-year project saw an identification board placed at Sovereign Harbour on Friday.
The beaches are home to rare plants such as red hemp-nettle, sea holly and sea pea, and birds such as the ringed plover which often nests on the beach.
The county council is working with Flemish organisations to promote access to beaches in an EU-funded scheme.
Volunteers have carried out hundreds of wildlife surveys since 2008 when work to maintain the habitats got under way.
East Sussex County Council said community groups and other volunteer organisations helped to carry out 380 surveys covering about 23 miles (38km) of coastline.
More than 70 volunteers attended training days before carrying out shingle vegetation surveys.
The rare plant species of red hemp-nettle, sea holly and sea pea can only be found in a handful of locations along the East Sussex coastline.