Grieving Brighton dog eats comfort blanket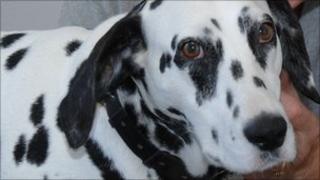 A dog had to undergo life-saving surgery after eating her own comfort blanket following the death of one of her owners in Brighton.
Cassie, a seven-year-old Dalmatian, became seriously ill after eating 1.3lb (0.6kg) of the material.
Vets carried out emergency surgery to remove the blanket and she is now making a full recovery.
Her owner, Frances York, said the dog began to chew on her blanket following the death of her husband in August.
'Anxious behaviour'
She said: "Cassie always used to chew on her blanket occasionally, especially if she was left alone.
"But I noticed this became much worse after my husband died and I was told this could be a sign of grief or stress."
Rebecca Thring, of the Brighton PDSA veterinary charity, said: "Eating strange objects is just one example of anxious behaviour that can be caused by separation."